Post by Glory?! on Apr 17, 2011 22:12:44 GMT -6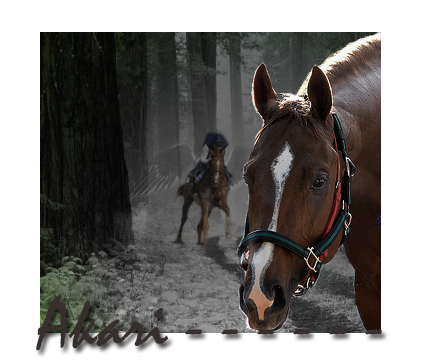 Fate had grabbed the reins of Akari's life brutally as the shades of the sun flickered through the bars of her once glorious trailer. Like thunder across the Kentucky hills, the sounds of the trailer crashing into the soil below could be heard from miles around as it took it's place in natures way. The filly inside however would never fare the same again. Her massive frame crashed against the sides as if she had been a rag doll carelessly thrown from the hands of a child into the trash. She was out of control. Feeling the pressure upon her muzzle from the ties that kept her steadily in place, nothing but a panic could be expressed as the feeling of metal cutting into her thick flesh was made known. It was only then when the door flung itself free from the locks allowing the dust to flutter on into her space. Complete silence now lingered upon the scene of the accident. Forcing air through her lungs, Akari thrashed upon the latches in hopes they would release her from her prison. With luck they snapped with ease allowing her massive feminine body to roll to freedom, her daggers cutting into the soil more prematurely than even she expected.

The smell of gasoline and oil quickly filled her flared nares just as the small expulsion of flames had began at the base of the truck. Flipping her ears toward the strange occurrence all of her instincts inside her forced her pillars into a swift gallop that would carry her just out of harms reach. Who would have thought the great Akari would soon become lost in the very would she thought she knew and had revolved around her glory? Keeping her stride prolonged and her neck outstretched to it's fullest capacity, Akari's mind was settled upon one thing and one thing only. Run. In a world where humans didn't exist seemed impossible for her to imagine yet here it was all around her. Confusion had now began to set in as she called for them yet none seemed to come. Had her humans become lazy to her every need? A good bite was in order later if that had been the simple case to it all. Carrying herself far and wide, now feeling as if she was going in circles, the filly then forced herself to stop. Everything looked the same, everything smelled the same. Where was the smell of fresh feed, water and hay? Snorting softly in disgust of her new surroundings, Akari picked her pillars up in a slow walk as she felt the mud grasping to the bottom of her once cleaned hooves and shipping boots. It was only then did she notice the vast endless mass of open ground before her. This wasn't home. This was far from home. This was her hell on earth.